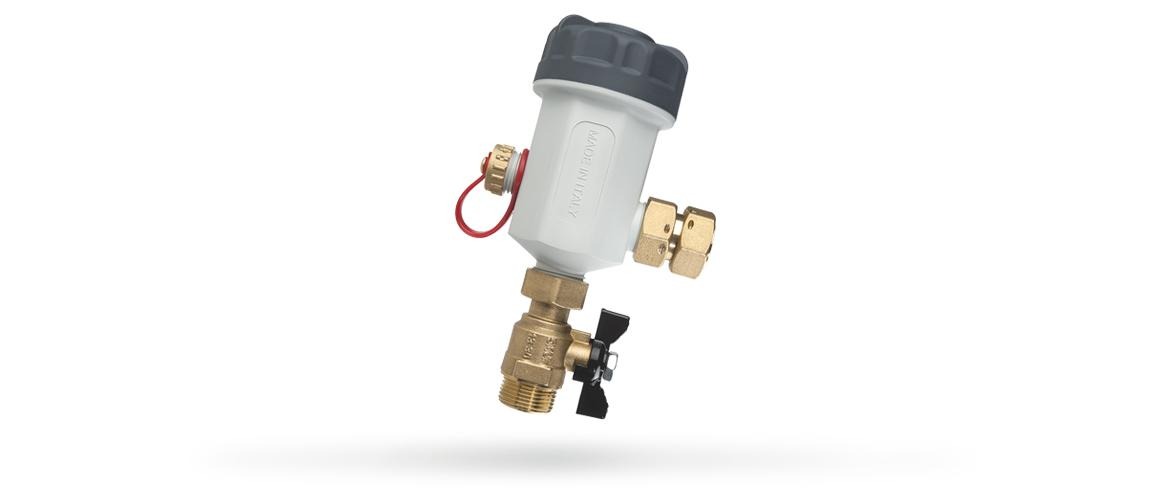 FDM-1P
The FDM-1P magnetic sludge filters are the ideal solution to resolve system issues due to particle contamination (especially rust and sand) that form through corrosion and build-ups during normal thermal system operation.
FDM-1P can be installed with different orientations: in the event of limited spaces under the boiler (i.e.: boiler installed in kitchen cabinets) FDM-1P must be installed with the main body horizontal and the cap facing forward. Should there be more available space for installation, it is possible to position the FDM-1P with the body upright and the cap facing downwards. In order to allow for these installation configurations, simply invert the position of the boiler connection swivel joint with the ball valve and rotate the filter by 90°. The connections on the main body are made with G 3/4" threading, the drain with G 1/2" threading.
FDM-1P is supplied complete with ball valve and brass swivel joint.
Main products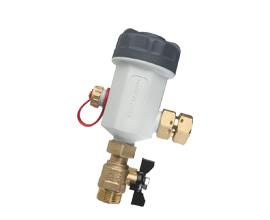 FDM-1P
Connections in 3/4" brass
Plastic material: Reinforced PA66 polyamide.
Body: Reinforced PA66 polyamide.
Cap: Reinforced PA66 polyamide.
Filtering cartridge: AISI 304 L stainless steel.
Ball valve: CW 614 N brass.
Swivel joint: CW 614 N brass.
O-rings: EPDM.
Discharge cap: CW 614 N brass – ½".
Magnet: NdFeB - 4500 Gauss - CW 617 N brass magnet container.
Magnet holder: Polypropylene.
Degree of filtration 500 μm
Max. operating pressure 3 bar at 90°C
Operating temperature 4 - 90°C
Continuous boiler protection
Long system life
Maximum efficiency eliminating impurities and preventing corrosion
Great versatility in installation