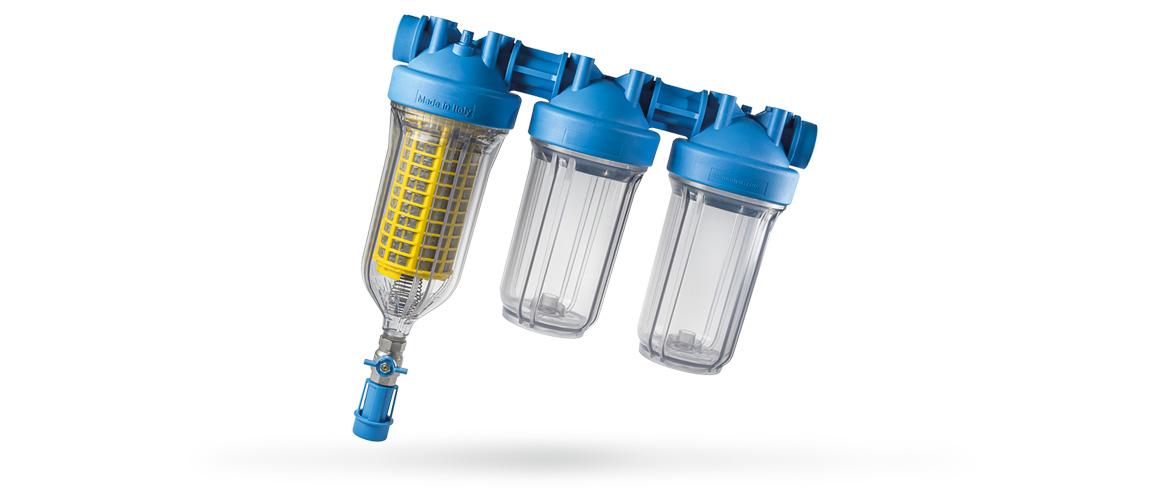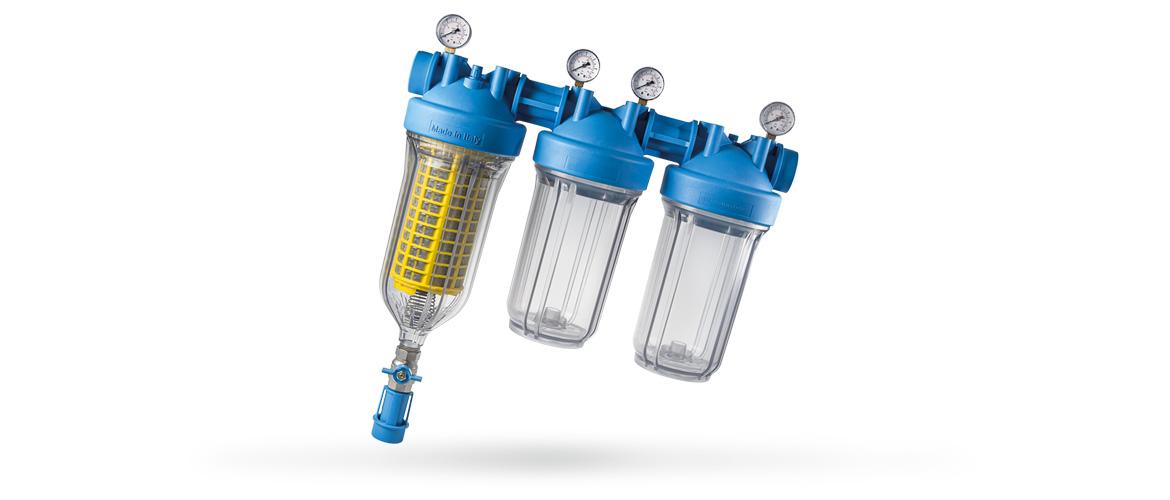 HYDRA BIG TRIO
The Hydra BIG TRIO self-cleaning filter guarantees the maximum protection of the system thanks to its high-level performance. It is designed for filtering and treating water in several stages.
The first pre-filtration stage houses dedicated cartridges selected between RAH BIG (stainless steel mesh) and RLH BIG (polyester mesh), both available with a filtration degree of 50 and 90 microns.
During this stage, thanks to the backwash, the collected impurities are removed from the external surface of the cartridge and eliminated by a specific drain equipped with anti-backwash system.
In the two following stages, BIG SX 10" (DOE) cartridges must be used in order to refine filtration even more or proceed with water treatment.
Available 1" and 1"1/2 versions with BSPP and NPT plastic connections and 1" versions with BSPP and NPT-Lead Free brass connections.
Versions available with four pressure gauges.
MAIN PRODUCTS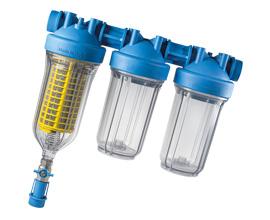 HYDRA BIG TRIO RAH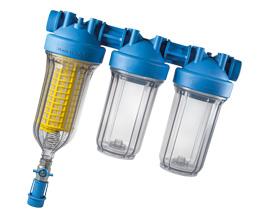 HYDRA BIG TRIO RLH
Triple stage water filter with self-cleaning pre-filter
First stage suitable for RAH BIG and RLH BIG cartridges
Second and third stage suitable for BIG SX 10" (DOE) cartridges
1" and 1"1/2 IN/OUT connections in BSPP and NPT plastic
1" IN/OUT connections in BSPP and NPT-Lead Free brass connections
Head: reinforced polypropylene
Bowl: PET
O-ring: silicone.
Drain ball valve for self-cleaning
Equipped with prevention device from pollution by backflow
M models with four pressure gauges
Maximum operating temperature: 45°C (113° F)
Maximum operating pressure: 8.3 bar (120 psi)
Minimum operating pressure: 1.8 bar (26 psi)
Minimum flow rate for an effective backwash: 2000 l/h (RAH BIG), 2400 l/h (RLH BIG)
Selected materials, suitable for use with potable water
Multistage filtration with first self-cleaning stage
Second and third stage adaptable to different types of cartridges for filtration and/or treatment
Equipped with cartridges with different filtration degrees
Washable and reusable pre-filter cartridges
Safer and more practical thanks to the single block head
Resistant to high flow rates
The pressure gauges supply a complete control of the pressures




Discover our compatible cartridges and ensure efficient filtration and treatment!
sediments filter cartridges
Filtration in depth

Mechanism through which sediments are trapped both inside the matrix and on the surface of the filter device.
water treatment cartridges
video gallery
HYDRA BIG | TO MEET BIG EXPECTATIONS